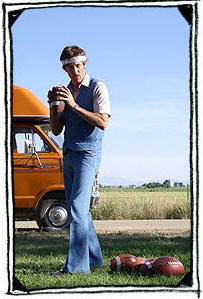 Church services are interesting here in the Czech for me. I know enough Czech so that I can pronounce the words when I'm singing. I know enough vocab, so that I can usually get the main meaning of the song. The sermon, on the other hand, is another level in which I have only begun to ascend. Half the time it is Polish anyways, so what I usually do is find out what passage the pastor is speaking on and just read the surrounding context and related passages for 45 minutes. It is a really great practice, but I began missing the art of preaching. I missed hearing the Scriptures read and expressed from another's mind and experiences. Because of this I started downloading sermons and listening to them on Sunday afternoons or on long car rides. Rob Bell has become one of my favorites and so I listened to him this morning.
The title of this particular sermon was "How to Lose Your Life". He started with telling the story of Mary (the one called Magdalene) seeing Jesus in the garden from John 20. He talked about how, after realizing it was Jesus, she clinged to Him and how Jesus told her to stop and to go tell her brothers that He is going to return to His Father. Rob asked, "Why did Jesus do this? Why did He tell her to stop clinging to Him? Why did He tell her to go tell her brothers that He must return to the Father?" His answer, expounded upon through the Scriptures was because a new time was coming in which Jesus wouldn't be on earth and that she couldn't hold onto Him and the way things used to be, but rather, by the power of the Spirit (2 Tim 1:7), she needed to prepare for this new time. His application was that our tendency is to hold on to the way things used to be. We fear change and the future, so we remember the past and we fight to keep things the same. This is when he moved to Matt 16:24-25. Jesus says, "If anyone would come after me, he must deny himself and take up his cross and follow me. For whoever wants to save his life will lose it, but whoever loses his life for me will find it." We cling to life. We cling to the way we want life to be, we cling to our hopes and our dreams and we cling to the past. Jesus says that if we are trying to save our life, we will miss life. We will lose out on what He has for us. But if we lose our life, if we lose our life for Him, we will find it!
Man, this spoke to everything that is inside of me. I love the old days. I love the way things used to be. I find myself remembering Arizona. I find myself remembering Oregon. I find myself glorying in the past. It's sad but am I much different than Napoleon's Uncle Rico? Glorying in the days of the past only to be living in a van, watching life pass me by? God has something great for me. He has taken me from humble Redmond, Oregon, population 7,000, child of a raised-Catholic neighborhood babysitter and an Agnostic mill worker/landscaper (who now are both following the Lord) and moved me to the Czech Republic to work to expand His Kingdom! He has given me the responsibility to help run and organize 20+ camps in which 300 American students and youth leaders will be profoundly changed by experiencing dynamic, life-changing, relational evangelism, where 300 Czech students and youth leaders will experience that same evangelism with their peers and 800 unbelievers will hear the Gospel, some for the first time! And yet, I think back to yesteryear. I think back to what was. I sometimes LONG to go back to what was...internship, seminary, the familiarity of friends, the feeling of knowing and being known.
I am losing my life. While watching re-runs of 1996's Senior Year or 2000's Summer of Fun or the ever popular hit from 2001-2004, The Intern Years, I am missing the show that God is filming now. I am starring in a show right now in which I am a missionary in the Czech. God has huge things planned. God has a never-ending budget and I am watching re-runs in poor quality. He has brought me so far and yet I am not grasping onto the future. I am not living for now. I am just content with living in the past. And in doing all of this I am going to "lose my life"...
So what do I do? I don't know. I know that God called me here. I know that God called me to do what I am doing. I know that I have the Holy Spirit inside of me who wants to use me. Even though I often feel no passion for what I'm doing, I know that I need to take hold of what He has called me to. I need to heed Paul's words to Timothy in 2 Timothy 1, "to fan into flame the gift of God, which is in you through the laying on of my hands, for God gave us a spirit not of fear but of power and love and self-control."